Evaluating the impact of training on screening for and treating malnutrition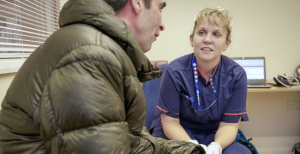 In 2016, our Research Team designed and administered a survey for community health staff, to explore their experiences of receiving training on malnutrition, and how to identify it in their patients.
The survey found that the training increased community health staff's awareness of the importance of screening for malnutrition. This includes taking height and weight measurements to calculate body mass index (BMI), noting unplanned weight loss and using guidelines to develop a care plan.
Our impact
The training helped staff to understand how important it is to screen for malnutrition, and to identify and address inappropriate use of oral nutritional supplements. This led to an increase in the number of people being screened for malnutrition and more people being offered 'food first' advice. 'Food First' is an approach to treating malnutrition using everyday nourishing foods and drinks, such as eating nutritious snacks between meals and adding full fat and sugar products to food.
Following the evaluation, the CCG has made it a requirement that the community health provider uses MUST – the Malnutrition Universal Screening Tool, and reports on the results.